Ooops, we've done it again…released a cutting edge biomass trading platform just in time for the winter heating season!
The MBioEX Wood Pellet Bidding Platform
In August, the Minneapolis Biomass Exchange proudly released the first wood pellet bidding system in the country, which works anywhere wood pellets can be found within the continental U.S. From our point of view, one problem with the wood pellet industry is that the buying, logistics, and quality control processes are complicated.
Minneapolis Biomass Exchange launches new online-trading platform
"After functioning for nearly three years as a craigslist-style website connecting buyers and sellers of biomass material, the Minneapolis Biomass Exchange recently launched a new online-trading platform.
Since the exchange went online in November 2009, it has registered about 600 users scattered across North America, Europe, Asia and Africa. The new trading platform (at MBioEx.com) went 'live' in August."
Read More at Finance-Commerce Journal.
Since the exchange went online in November 2009, it has registered about 600 users scattered across North America, Europe, Asia and Africa. The new trading platform (at MBioEx.com) went "live" in August.
We are pleased to introduce our new biomass bidding platform!
The purpose of the bidding platform is to allow buyers to buy product easily and at a good price without having to contact multiple sellers individually. The images below will give a brief overview of what you can expect to see when creating a bid.
The Bid
Select the type of biomass you would like to bid on from the drop down menu (wood pellets are the first product type available for bidding).
Enter how many tons you would like to receive. Your bid is more likely to be accepted if you order by the truckload (multiples of 22 tons are the best bet).
Enter how much you are willing to pay per ton delivered. That's right – it shows up at your destination!  After you have entered this information a maximum bid amount will appear.  Click next to move on!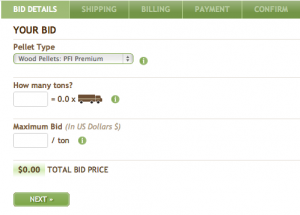 Shipping Address
Enter your shipping address for delivery. Click Next.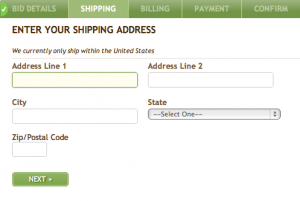 Billing Info
Enter your billing information. Click Next.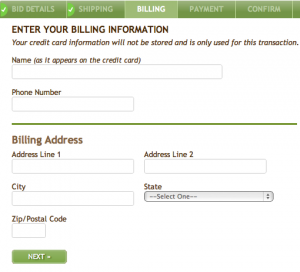 Payment Details
Enter your card number (without spaces), verification code, and expiration date. Click Next.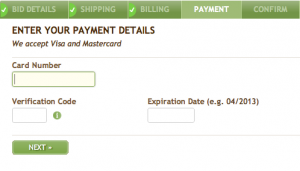 The Confirmation Page
The confirmation page is the final step for you to review all of the information provided to this point. If you are happy with the bid, click 'Submit Bid'. Upon submission, sellers will compete to accept your bid.  The first seller to accept the bid will deliver your product within 7-10 days.  If no seller accepts your bid, the bid will expire after 24 hours.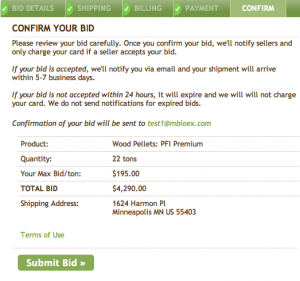 Its that easy!  Bid early and bid often!
There are no penalties for unaccepted bids.  You only pay for seller-accepted transactions.
(Quietly) we released our wood pellet bidding platform and new homepage look (referred to by us as Release 3.0)!  More info on features soon but feel free to give it a whirl!
Made a few updates to the quality control interface to make it easier to choose biomass lab tests.  This link only works for signed-in users: https://www.mbioex.com/lab_requests
It is with great pleasure that we introduce two new advisory board members: Luca Zullo and David Kurzman.
Luca Zullo is the founder of VerdeNero LLC, a biomass and biofuels consulting firm.  He formerly was Project Lead at Cargill Environmental Finance, developing second generation biofuels and bio-energy projects, especially "waste" to energy projects.  Luca has also worked at Cray Research in the US and Shell Research in The Netherlands.
David Kurzman is Co-Portfolio Manager for the Leuthold Global Clean Technology Fund. Prior to joining the Leuthold team, David was Managing Partner of Kurzman CleanTech Research, a private research and investment firm which managed a pool of private capital for high-net worth investors.  Prior to that, David worked for Panel Intelligence, LLC, Needham & Co., H.C. Wainwright & Co., Value Line Inc. and the Weitz Funds.
Luca Zullo and David Kurzman have been advising MBioEX for a few months and are a great complement to the MBioEX team.  To view full bios of them or our other team members, click here.
The big addition this week is the introduction of four demos we put together to help new users use our services.  Click the image below to see the demos or go to the www.mbioex.com homepage and navigate to "Demos" under "About Us".