Biomass Bidding Platform

We are pleased to introduce our new biomass bidding platform!
The purpose of the bidding platform is to allow buyers to buy product easily and at a good price without having to contact multiple sellers individually. The images below will give a brief overview of what you can expect to see when creating a bid.
The Bid
Select the type of biomass you would like to bid on from the drop down menu (wood pellets are the first product type available for bidding).
Enter how many tons you would like to receive. Your bid is more likely to be accepted if you order by the truckload (multiples of 22 tons are the best bet).
Enter how much you are willing to pay per ton delivered. That's right – it shows up at your destination!  After you have entered this information a maximum bid amount will appear.  Click next to move on!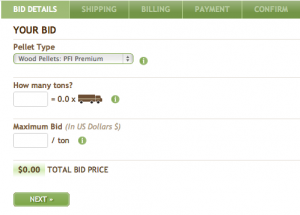 Shipping Address
Enter your shipping address for delivery. Click Next.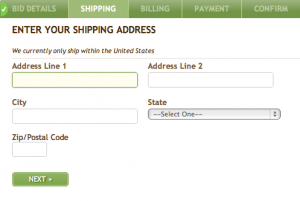 Billing Info
Enter your billing information. Click Next.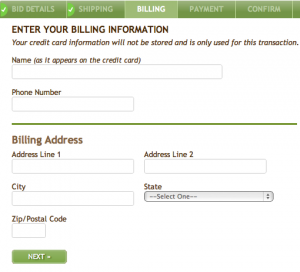 Payment Details
Enter your card number (without spaces), verification code, and expiration date. Click Next.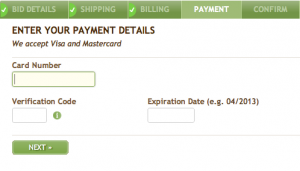 The Confirmation Page
The confirmation page is the final step for you to review all of the information provided to this point. If you are happy with the bid, click 'Submit Bid'. Upon submission, sellers will compete to accept your bid.  The first seller to accept the bid will deliver your product within 7-10 days.  If no seller accepts your bid, the bid will expire after 24 hours.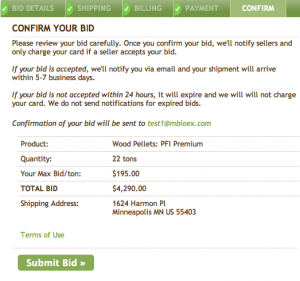 Its that easy!  Bid early and bid often!
There are no penalties for unaccepted bids.  You only pay for seller-accepted transactions.